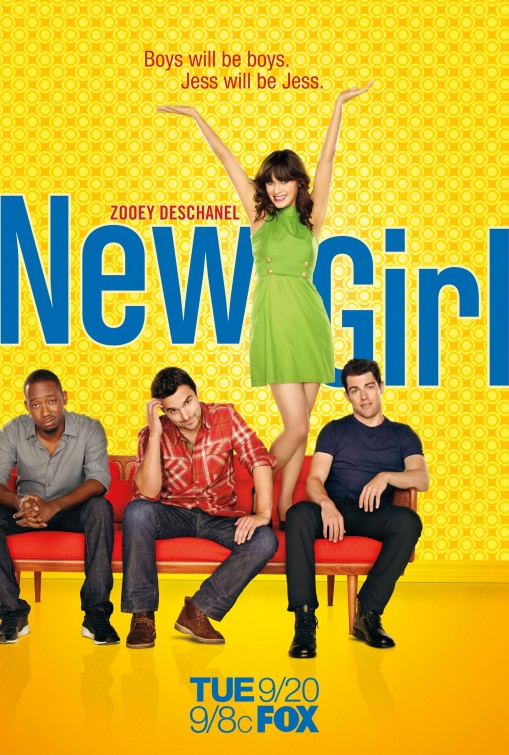 Show: New Girl
Network: Fox
Time slot: Tuesdays 9/8c
Premiering: September 20th, 2011
You would not believe my excitement when I found out
Zooey Dechanel
was staring in a new comedy on Fox. I'm a huge Zooey fan, from her movies to her music. (If you haven't heard She & Him, you are missing out on some great music).
Dechanel is awesome at playing awkward and quirky, which makes her perfect for this new comedy. Her character, Jess, is a super dorky girl who moves in with a few guys she met off Craigslist after she catches her boyfriend cheating on her (in a really funny and weird scene where Jess is dancing naked).
Of course, Zooey's character is my favorite. She is believable and interesting, and makes you want to root for her. I think the most endearing thing about Jess is the way her voice changes every so often and makes her sound even more like a dork. I know, that's a totally random thing to mention, but I think it makes the jokes and nerdiness of Jess really stand out.


Jake M. Johnson
), who seems the most sincere of the guys she moved in with. It's probably the fact that he relates to Jess because he had been dumped 6 months prior. Coach (
Damon Wayans Jr
) was very interesting, but there's no point of talking too much about his character since he is only in the pilot episode. Though he was funny I enjoy Wayans much more on Happy Endings, so I am not too sad he won't be on New Girl. Then there's Schmidt (
Max Greenfield
) who, so far, I just have not figured out. He's constantly saying and doing douchey things (he has to put money in a jar that says "Douche Bag" Jar a lot), but then there's small glimpses of him being... almost sweet. Of course, I've only seen the pilot, and if you know me, you know how I feel about pilots, so we'll just have to wait and see how he develops as a character.
| | |
| --- | --- |
| | |
| gif via littlestweasel.tumblr.com | |
New Girl wasn't "knee slapping" funny like I thought it would be, but it really did make me laugh out loud quite a few times. They have a solid story line and pretty fantastic writing where they can just go anywhere with these characters. I'm more excited about the concept of having Zooey Dechanel staring on her own show. (And on the same network as her sister
Emily Dechanel
from Bones, that's pretty neat). The promotion Fox has done for New Girl has been a bit over the top and the anticipation actually led to a little bit of disappointment. I'm not saying the pilot wasn't good, because it really was, but not as good as I expected.
Bottom Line: I'll totally keep watching New Girl. It's a silly show with a dorky leading lady that brings quite a few laughs. Is it the best comedy on television? Not even close. But it's original, quirky, and... it has Zooey Dechanel. How can I not watch something she's in?!


xoxo,
e.m.