Show: 90210
Network: The CW
Time slot: Tuesdays 9/8c
Season 4 Premiere: September 13, 2011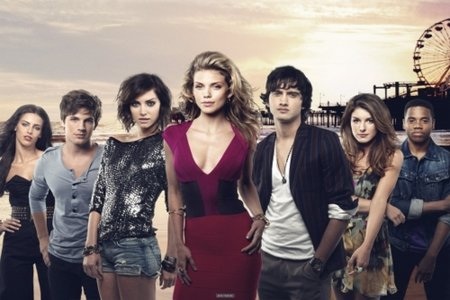 They're back and so is all the drama! The premiere of the 4th season of 90210 was a bit rushed and was kind of the most soap opera like episode I've seen of this show so far. But I'll let it go because I get why they did it-- It's almost like a pilot all over again. They graduated high school last season and now the writers have to set up all new story lines. Not many of the characters are still in the same story-line as they were last season. Mostly they're moving on, which to Naomi (
AnnaLynne McCord
) means: throwing a huge party and burning things in a fire to let go of their past. The bon-fire ends up burning more than just memories from the past though... it burns a whole lotta weed. Yup, weed. That's what I love about this show... yes, it's dramatic as a soap opera, but there's always some comedy mixed in to lighten up the show.
Naomi is probably one of my favorite characters because they write her so well. She's a total bitch and pretty self-absorbed, but they write so many moments where she's absolutely human with a lot of faults. They've had a lot of things happen to her that can break a person and AnnaLynne McCord pulls off the stuck-up part of Naomi and the more vulnerable side of her as well.Although I really liked her with Max (their relationship was so freakin' cute), I don't think they could have kept them together and kept it as interesting as not keeping them together. In this episode she was really funny, but beneath that you can see that she was still hurting over the break-up. But, if you've seen the premiere last night, you know who she's going to be hooking up with this season. It's usually the person she insults the most. It'll be interesting, but obviously won't last.
Something I found lame was the fact that Annie (
Shenae Grimes
) was boo-hoo'ing over Liam (
Matt Lanter
) in the beginning of the episode and then when he does something huge for her she not only shuts him down but then doesn't give him a chance to make up for not contacting her while he was away during the summer. If she loves him like she keeps saying she does, she wouldn't be giving googly eyes to some other guy who isn't even as cute as Liam. Just sayin'.
I really enjoyed Silver (
Jessica Stroup
) in this season opener. Her acting has gotten a lot better and I think she has more depth to her from the events that happened in the last few episodes of last season. I really hope she never becomes friends with Adrianna (
Jessica Lownden
) again. What she did (switching Silvers meds) is not forgivable, and I don't know how the writers are going to redeem her. She's done too much to everyone and to herself. They're trying hard though, having her go to Africa and do charity work and the speech she gave was almost moving, but it's going to have to be a whole lot more before viewers start liking her again. Well, at least this viewer.
I won't go into every character or every plot, because there was a whole lot going on in just one hour, but I do have to mention Ivy and Raj. First let me say, I was not a fan of Ivy in the first handful of episodes she was in, but her story line with Raj is beautiful, and I'm liking her more and more. I know it's going to be a sad ending, because it's going to be a better story for them to make it sad, so I'm sure the writers are going that way with Raj and Ivy's marriage/relationship. However, even if it does end tragically, it's still a beautiful relationship. Both
Gillian Zinser
and
Manish Dayal
are doing a fantastic job making these two characters lovely, realistic, and sweet.
Bottom Line: I'll continue to watch 90210. I've been a devoted viewer since episode one and will be a devoted viewer until the very last episode. The CW is really awesome at choosing shows that I can't help but get emotionally involved in. The end of this episode had my jaw to the ground a couple times, so that's a good sign as to what's to come this season!
xoxo,
e.m.